Highlighting your strengths to potential trade partners and current customers is essential for any business, but for one involved in exporting and international trade, it is paramount. If you could reassure trade partners as to your reliability and trustworthiness bot in operation and financial matters, how would you do it?Authorised Economic Operator (AEO) status does exactly that: it shows customers and trade partners that your role within the international supply chain is secure and highlights efficient and compliant customs controls and procedures.
Not mandatory, but considered essential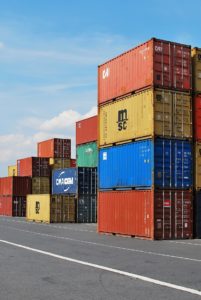 AEO is not mandatory and at the time of publishing, there are no plans to make it so. None the less, the EU and the UK Government are encouraging the majority of organisations and businesses that export outside of the EU to sign up to this global initiative.
The status has been designed to look at all aspects of the supply chain, from origin to the final delivery destination, making it as secure as possible.
Who can apply for AEO status?
Registration is open to wide range of businesses that regularly export to outside of the EU, as well as those involved in trade within the EU. Companies involved in logistics, carriers, freight forwarding, and customs agents, importers, exporters and manufacturers are all being encouraged to look seriously at AEO status.
Lagging behind
AEO status has been in operation for over seven years but the UK significantly lags behind other EU countries. Here in the UK, there were only 372 approved AEO registrations compared to 5659 in Germany, 1451 in the Netherlands and 1223 in France (2015 figures).
It could be argued that with larger logistics sectors in Germany and the Netherlands, especially when compared to that of the UK, the expectation would be that the number of AEO approved operators would be higher.
However, there is a growing concern within the UK, especially amongst leading exporting businesses, that this lagging behind in terms of AEO approved businesses could mean a significant loss of traction in terms of international trade at some point in the future.
The fact that most exporters in the UK meet the basis registration requirements – a business established in the European Union (EU), be actively involved in customs-related operations, trade internationally and have Economic Operator Registration and Identification (EORI) – means that AEO registration should be attainable for most businesses.
Quality standard
For any business, any accolade that increases standards can only be a good thing. As part of the registration process, HMRC stringently assess the financial robustness of a company. Although many companies and businesses view this warily, with help and advice from a specialist AEO consultant, this process is to be welcomed and not feared.
Benefits of AEO
This is not a paper exercise, but one that brings many benefits, including:
Greater access to priority clearance

Reduced administration

Improved traceable flow of goods

Increased security during transport

Fewer delays in dispatch

Improved security throughout the supply chain

Improved and quicker access to certain customs procedures
How can we help you?
If you're in need of assistance with any aspect of certification here at Synergos we'd be delighted to help. Whether you have questions about the path to certification or are looking for advise and support to maintain an existing standard call 01484 817 444 or Email info@synergosconsultancy.co.uk and we'll be happy to talk it over with you.
Published 28/09/2016