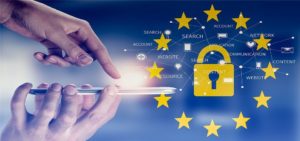 May 25th 2018 was the day by which all businesses active within Europe had to be GDPR compliant. In other words, any business selling or buying from European business and individuals needed to show that they met the new set of rules relating to the storing, processing and discarding of personal data and information.
If you are not GDPR compliant, your business will suffer. So here are three reasons why, if you are not currently meeting the standards as set out in the rule book, you need to take action – and quick!
1 It's your business reputation
GDPR affects everyone. There are very few people who have not heard of GDPR and so if you are still floundering around after the GDPR May deadline, you look unprofessional.
By being compliant, you show customers you are on the ball and that means confidence in your business, the importance of which is beyond measure.
Good business means having good business practice. You may not be thrilled with all the hard work that GDPR compliance brings but in the end, it will be worth it to send the right signals to customers.
2 You are part of the fight back
It's happened to us all, whether we know it or not. Misuse and abuse of personal data happens all the time every day, all over the world and the web.
It's time for this to stop and so GDPR compliance is being part of the fight back to stop this happening, intentionally or otherwise.
GDPR doesn't mean you have to stop collecting customer data. Neither does it mean you have to stop using this data to retarget them online.
What it means is that you are honest about what you are doing with personal information, why you are doing it and what it means for them.
Update – customers are still sharing their personal information online with three-quarters of people recently surveyed saying they understood it was part and parcel of buying online. But they now feel more confident in handing over their information to a GDPR complaint company because they know they will treat it with care.
3 It helps you measure value to customers
Most businesses have content marketing strategies. This is where they provide information to their customer that they hope they will find valuable.
When people are opting to watch, read or listen to what you are offering them online, they will be prepared to share their information and data with you.
In other words, GDPR compliance helps you to measure value to your customer but it won't' if you don't do it.
And finally…
If you aren't GDPR compliant, you probably haven't upped your online security either. And that places you in a vulnerable position.
On one hand, cyber attacks could be chipping away at you right now and you wouldn't know it. And when that breach becomes public knowledge, your business will be faced with a hefty fine, a new rule under GDPR.
If you aren't GDPR compliant, take action NOW!
How can we help you?
If you're in need of assistance with any aspect of ISO or GDPR compliance, here at Synergos we'd be delighted to help. Whether you have questions about the path to compliance or are looking for advice and support to maintain compliance, call 01484 817 444 or Email info@synergosconsultancy.co.uk and we'll be happy to talk it over with you.