The growth in trade through Europe and beyond, together with increasing security threats has necessitated the implementation of the AEO programme throughout Europe. Every link in the supply chain benefits from organisations having AEO certification.
What is AEO?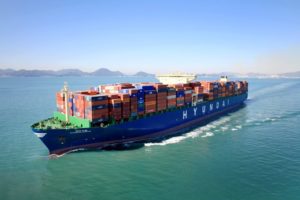 In Europe the AEO concept was created out of the Community Customs Code (Reg.(EC) 648/2005) to allow member states to grant AEO status to any operator provided a certain set of criteria are met. One of the advantages of AEO status applying to haulage and transport operators is the access to easier and simplified customs procedures. Equally importantly AEO status is recognition of quality assurance; that an organisation's customs controls and procedures are compliant and efficient and that the operator's role in the supply chain is secure.
AEO status is applied for in two parts. One is for customs simplification (AEOC) and the other is for security and safety (AEOS). An operator can apply for one or the other or both.
From 1st May 2016 the Union Customs Code will be introduced to AEOC as a new standard of practical competence or professional qualification directly related to customs activities and taxation rules. All of this is designed to further tighten efficiency of customs access and movement of goods.
How does it benefit the supply chain?
The supply chain comprises the whole supply and demand network that is involved in the movement of goods and services from the supplier, through the transportation links to the customer. Every part of that chain must be secure and compliant.
The EU AEO database allows anyone involved in the international supply chain to check whether an operator holds AEO status, along with what type it is plus when and where it was issued. Organisations allowed access to the database include – and this list is not exhaustive include:
Manufacturers
Exporters
Freight forwarders
Warehouse operators
Airline loaders and port operators
Secure freight parking operators
Access to this information offers assurance that an operator is fully compliant with all relevant legislation and customs requirements.
AEOC status indicates an operator has a good tax and customs compliance history, financial solvency for at least 3 years, good record keeping and has professional qualifications or required standards of competence. Holders of AEOS status can demonstrate that they have the appropriate safety and security standards in place to protect the supply chain.
The process
HMRC carry out thorough and stringent checks on prospective AEO holders. They look for business compliance with tax and customs requirements and for any infringements of customs regulations. HMRC will also access an operator's record keeping and administrative systems, accounting and I.T. systems and expect an operator to have a method of informing HMRC of errors. They will also check that an operator has in place safety and security measures to protect their business and the supply chain and these security measures will cover everything from premises, cargo areas, manufacture and storage, staff and contracted parties.
The AEO program, in short, is committed to ensuring the security of the supply chain and the facilitation of the trade process from start to finish, and we can help you achieve AEO certification. Simply call Synergos Consultancy on 01484 817 444 or email info@synergosconsultancy.co.uk to find out how we can help you take advantage of the benefits of AEO.