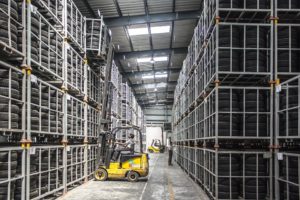 A busy place, the warehouse can be a minefield of hazards and risks, all of which the warehouse worker must avoid. But what are they? And how can accidents be prevented?
RISK – Heavy equipment
From forklifts to moveable staircases, the warehouse can have a range of heavy equipment for the warehouse worker to use. The risks of using them are minimised when workers are trained in their use, supervised by more experienced colleagues and when the equipment is well-maintained.
RISK – Slips & trips
According to the HSE, slips and trips are still the most common workplace accident. From a sprained muscle to broken bones, a slip or trip can spell disaster, especially in the warehouse.
To prevent trips, hazards need to be spotted and dealt with according e.g. cables out of the way or secured, spillages need to be cleared up immediately and using the correct spill kit. Anti-slip mats can also help in some warehouses where spills are common such as abattoirs or food storage warehouses.
RISK – Falling
Another workplace accident that tops the charts, falling, even from the smallest of heights can result in serious injury. As well as ensuring that warehouse hazards are spotted and dealt with, warehouse workers need to be trained to be continually aware of their surroundings. It may be a vast, open space but the warehouse hides dangers.
RISK – Fire
Fire jeopardises the whole warehouse, and the smallest spark can ignite materials and items stored. From checking electrical wiring and systems to ensuring fire exits are kept clear at all times, fire is a real danger in the warehouse.
RISK – Crushing
A busy place, it is 'easy' to become so engrossed in what a worker is doing, they fail to see that their colleague has moved. There have been rare incidences of workers crushed in warehouses. As well as high visibility, there needs to be an acute awareness of movement of colleagues when using equipment and moving items.
RISK – Exposure to harmful substances
This may not affect every warehouse, but for those where spilt substances could be harmful or an escape of noxious gas could prove fatal, warehouse staff need specific training in handling substances and what to do in the event of a spill, escape or exposure.
RISK – Physical impact of the work
From lifting to being constantly on their feet, the physical health of warehouse workers is also under stress in the warehouse. Again, correct training is the answer – such as manual lifting training – but also the provision of correct lifting equipment. Support is also needed via occupational health should someone's health suffer.
RISK – Lack of training
Many of the hazards in a warehouse could be negated by training of workhouse team members. Although this happens, it is not a one-off tick box exercise. Likewise, health and safety training is often dull, with the phrase 'use your common sense' trotted out.
Ongoing training specific to the warehouse environment is key, alongside accredited health and safety schemes that help and support companies and workers to improve workplace safety.
How can we help you?
If you are in need of assistance with any aspect of Health and Safety management, here at Synergos we'd be delighted to help. Whether you have questions or are looking for advice and support to maintain standards, call 01484 666160 or Email info@synergosconsultancy.co.uk and we'll be happy to talk it over with you.