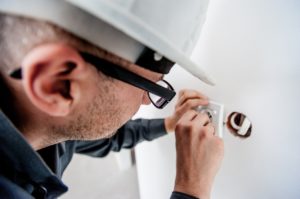 Health and safety in the workplace is essential. It is also an obligatory process for an employer to ensure that the workplace is as safe as possible. It needn't be complicated ensuring your workplace and sites is safe for everyone, but with contractors and trades people on site at various times, keeping track of hazards and risks can prove to be problematic.
There are many ways of staying on top of risks and hazards, thus improving health and safety.
1 Regularly inspect your work site
Health and safety is neither fixed nor static. In other words, hazards and risks change, sometimes on an hourly basis, sometimes daily, weekly or monthly. The risks and hazards identified at the start of the project may no longer be relevant or exist.
'New' hazards come along. Some risks are short term. Health and safety will also vary from one contractor to another, depending on their role, their equipment and their staff.
This is why it is imperative that you regularly inspect your site. The frequency of health and safety 'tours' will depend on how quickly the landscape of your project or work site changes. In some cases, it may be a daily occurrence.
2 Train ALL staff
Health and safety is essential but all too often, the training staff receive is scant, not detailed enough and delivered in such a way that it relies on people's common sense.
But common sense is a variable quality in people. Likewise, there may be a suggestion that office workers may not need the same level of health and safety awareness as those 'out in the field'.
But, if there are times when office staff walk onto the site as part of their working shift, they need to be fully aware of the site risks and the hazards – and, more importantly, how to avoid them.
3 Improve health and safety record keeping
Health and safety measures are to keep people safe. Health and safety records help to educate and inform, identify new hazards and new techniques of dealing with them.
However, health and safety records can be seen as the means by which companies, organisations and business are 'tripped up', their weaknesses in process and vulnerability in health and safety practices revealed.
Improving health and safety processes includes improving record-keeping, training of staff and above all, communication of current risks and hazards, and how to avoid or negate them.
4 Wrap it all up with CHAS certification
The Contractors Health and Safety Scheme (CHAS) certification is the ideal process for any business looking to sharpen their health and safety practices. Developed to help contractors and businesses, CHAS certification shows how health and safety can be improved. There are many other benefits to this certification process too. Why not call our team to discuss how CHAS certification is ideal for your business, how it will improve health and safety on site as well as impacting on the tendering and PQQ process too.
How can we help you?
Click here to download our NEW FREE eBook, informing you of the benefits of CHAS to your business.
If you're in need of assistance with any aspect of this accreditation here at Synergos we'd be delighted to help, call 01484 817 444 or Email info@synergosconsultancy.co.uk and we'll be happy to talk it over with you.