You may have noticed that there have been some changes to ISO 14001 recently. To put the answer to the above question in it's simplest form, the primary reason the committee revised ISO 14001 is to reflect the changes in the perspective of the environmental impact caused (directly or indirectly) by organisations around the world. Read on to find out more about the changes and why they were made. 
A changing standard for a changing world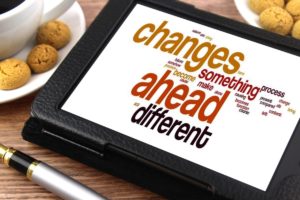 Organisations around the world now have to consider certain factors that were not so important prior to the creation of ISO 14001 in 1997. These factors include having difficult discussions on climate change – they see a lot of challenges and expectations for organisations to meet policymakers' interpretation of water utilisation and energy usage.
Changes in response to new challenges
These are big challenges but are recognised as important by all stakeholders of organisations, therefore it is down to the organisation in question to take on board the importance of these issues by the stakeholders; and come together to create solutions in the short term, medium term, and the long term. Because of the clear change in perspective by the stakeholders, and organisations as a whole, the committee chose to strengthen and revise the standard to keep up. Changes include more commitment requirements from a leadership perspective, a focus on more proactive innovations to become more environmentally friends and better communication on strategy.
ISO 14001:2015 is more important than ever
ISO 14001 is a standard that is able to support these organisations with advancement and continual improvement; and as a result has gone on to become a tool for self-improvement, and self-organisation for these organisations internally. It has also gone on to become a tool for third-party recognition as the standard now has over 300,000 successful applicants, making it a pre-requisite for some companies looking to work with larger conglomerates who cite the standard as a 'must have' in order to work with them. This is now set to continue for years to come and is likely to increase the number of applications year on year.
How was it developed?
Over 70 ISO experts contributed their own time and their expertise in their field, to bring together ideas and draft up the revised 14001:2015. The total number of people involved in the process development however, was much larger. Chair of ISO/TC/207/SC1 – the committee that undertook revision of the standard and its further development  – Anne-Marie Warris revealed that the standard, having been effective for over 20 years, was now primed to last for the next 20, as the revisions made were robust enough to stand the test of time and our changing environments.
How can we help you?
Click here to download our new eBook, which will give you an overview on the ISO standards and the FAQs that will help you understand ISO better.
If you're in need of assistance with any aspect of certification here at Synergos we'd be delighted to help. Whether you have questions about the path to certification or are looking for advise and support to maintain an existing standard call 01484 817 444 or Email info@synergosconsultancy.co.uk and we'll be happy to talk it over with you.